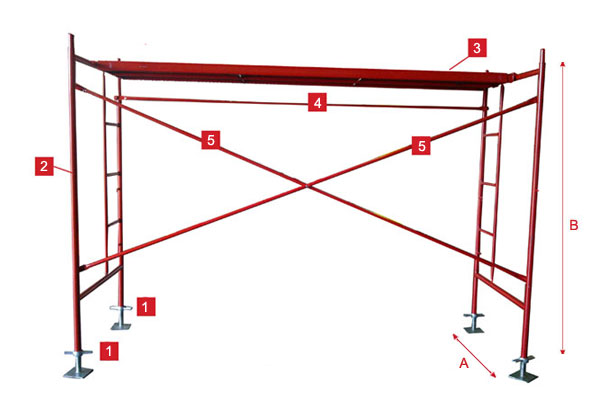 Scaffolding Standar A3 Scheme
1.- Husillo con Placa
2.- Marco de Andamio 2×1
3.- Plataforma Metálica
4.- Barra Horizontal
5.- Diagonal
Other Accessories
Rodapie
Marco de Paso
Rueda de Andamio
Barandilla
Placa Base
AVAILABLE SIZES
A x B
1020 x 1000 mm
1020 x 1500 mm
1020 x 2000 mm
1520 x 1000 mm
1520 x 1500 mm
1520 x 2000 mm
Why you should buy our model of Scaffold A-3 STANDARD ?
Frames and accessories of FERMAR Scaffolding are manufactured with high quality steel, tube of diam. 42 mm x 2 mm.

Cross Bar and Horizontal Bar Galvanized.

Fast and Easy Assembly.

The weldings encastrated in the tubes, warranting its safety.

Possibility of incorporating all kind of accessories like skirting boards, safety guard rail and aluminium platforms with window and ladder incorporated, to facilitate the access to the interior of the scaffolding.

Painted in epoxy-polyester treatment, rust proof.

Indispensable in small masonry works, painting or rehabilitation of façades.
Do you have a rental company of building materials? Are you going to start a construction project?
To receive a quote for your construction project or additional information about Standard scaffolding or any of our products and services, fill out the form below. Our technical department will contact you as soon as possible. Thank you