CERTIFIED BY AENOR – EUROPEAN NORM
NORM OF THE UNE EN 12810 * UNE EN 12811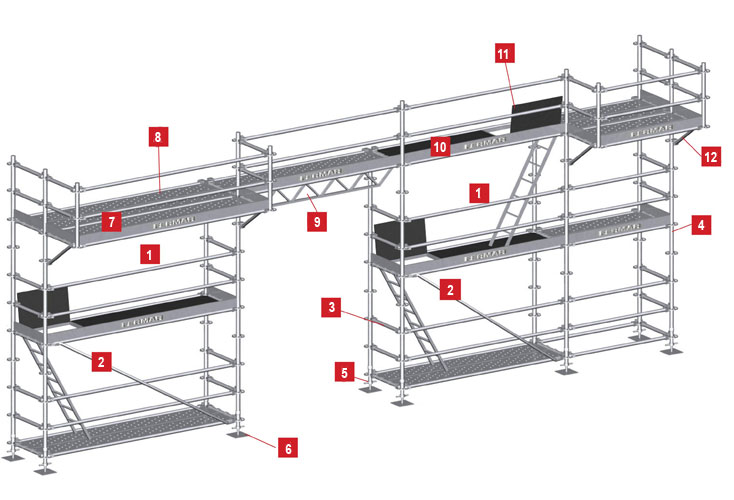 Multidirectional Scaffolding Scheme

1.- Horizontal standard
7.- Skirting board
2.- Diagonal
8.- Metalic platform
3.- Ledget
9.- Double ledger
4.- Vertical standard
10.- Skirting board
5.- Starting collar
11.- Aluminium platform
6.- Jack screw
12.- Console bracket

Other Accessories

Rueda con Husillo
Safety Belt
Sviwel Coupler S/En-74
Wall tie with hook
Poley
Console Bracket
Aluminium platform with window
Beam
Tube with coupler
Place the starting collar on the jack screws. It is possible to connect the vertical standards directly over jack screws
Connection of the jack screws by assembling the horizontal bars.
Assemble the vertical standards on the jacks and relevant ledgers on which we will place the metallic and aluminium boards.
Incorporate the diagonals and horizontal bars. They reinforce the structure of the scaffolding.
Add safety guard-rails and skirting boards.
Anchor the scaffolding by using wall ties or any other mean.
Why you should choose MultiFer Scaffold?
Manufactured in steel of high quality in tube of diam. 48 mm.

Hot galvanized finish.

8 Connections per rosette.

Free choice of angles (up to 360º)

Rapidy assembly and labours saving time.

Suitable for any construction's shape or façade.

Compatible with other manufacturers.
Are you going to start a construction project? Do you have a rental company of building materials?
To receive a quote for your construction project or additional information about Multidirectional Scaffolding or any of our products and services, fill out the form below. Our technical department will contact you as soon as possible. Thank you.