Erect your concrete pillars easier and cheaper.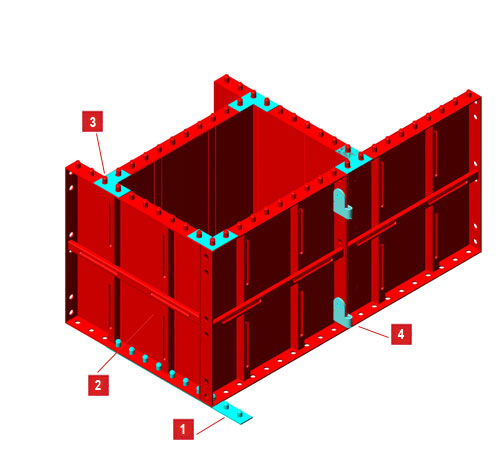 Sizes Model Normal (Four sides welded)
500 x 500 mm
600 x 500 mm
700 x 500 mm
Sizes Model PL-2 (Fold with bend in two sides)
250 x 500 mm
300 x 500 mm
350 x 500 mm
400 x 500 mm
500 x 500 mm
Shuttering Plates Schema
1.- Starting base
2.- Shuttering plate
3.- Corner Plate
4.- Look F-10
Why use FERMAR´S shuttering plates for columns?
FERMAR shutering pannels are manufactured in special steel thickness of 2 mm. Fully robotized welding.

Columns can be built from 0,25 up to 0,45 mts. For bigger dimensions plates union is required.

There are 2 models: welded (4 sides) and 2 sides bend.

Our system allows to combine 2 different dimensions to make rectangular columns.

Easy and fastly assembling.

Finishing by epoxy-poliester painture with antirust treatment.

Versatile system: Allows building pillars and small concrete walls (channelles, ditches,etc…).
Want to know how use our shuttering plates for double pillars? And how to build small walls with modular shuttering?
Please complete the form below and our technical department will solve this and any other question you have about our formworks systems.