Quality formwork system at very competitive prices.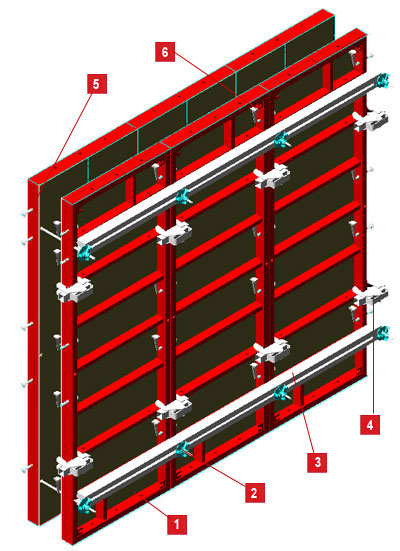 Panel Sizes (Base x Height)
300 x 1800 mm
450 x 1800 mm
900 x 1800 mm
300 x 2700 mm
450 x 2700 mm
900 x 2700 mm
Phenolic Formwork Schema

1.- Panel
4.- Linking clamp
2.- Round nut
5.- Pin
3.- Allineation belt metal
6.- Wedge

Otros Accesorios

Scaffolding
Diwidag Tie-rod Ø 17
Hexagonal nut
Wiking wingnut
PVC Tube
Pvc cone
Plastic stopper
Variable inner corner
Crane hook
Variable outer corner
Compesating panel
Outer corner panel
Inner corner panel
Infil Bar panel corner
Sorry, under construction.
Why use Phenolic Formwork Ness of Fermar?
Mixed boards of steel and wood.

High quality steel (S-275.JR)

Wood is specially treated with melamine.

Suitable for a concrete pressure of 5 Tn/m2.

It is easy to make large panels up to 25m2.

Easy and fastly assembling.

Good relationship quality-price

The elements of the system allow them to adapt to small brickwork and to large building work as well.
Do you have a rental company of building materials? Are you going to start a construction project? Do you want know how do you build walls with this formwork?
Please complete the form below and our technical department will solve this and any other question you have about our phenolic formwork system.