Our Metallic formwork system will help you to build walls and pillars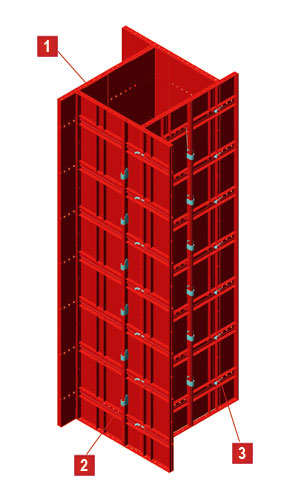 Panels Sizes (Base x Height)
500×2500 mm
500×2600 mm
500×2700 mm
500×3000 mm
Otros Accesorios
Metallic Formwork Schema
1.- Panel
2.- Look F30
3.- Zinced Wedge
Other Accessories
Zinced Wedge with pin
Alignment Belt
Why use our Metallic formwork system for columns and light walls?
Steel thickness in 2 mm., roborized welding.

Panels can be set horizontally and vertically.

Finishing by epoxy-poliester painture with antirust treatment.

It has accessories to build concrete walls 100mm thick.

Easy and fastly assembling.

Versatile system: Allows building pillars and walls.

Excellent relationship quality-price
Want to know how to use our lightweight metal panels Formwork for concrete columns? And how do you build walls with this formwork?
Please complete the form below and our technical department will solve this and any other question you have about our  formwork system.